April 25, 2007 16:01 IST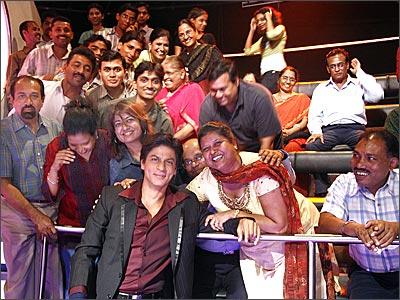 Reader Sheetal Goel, an huge fan of Shah Rukh Khan since the age of 13, was in for a pleasant surprise when a friend invited her on the sets of an episode of Kaun Banega Crorepati.
When she met SRK, Sheetal couldn't contain herself, and told the actor that she loved him at the first chance she got. He answered by blowing her a kiss.
But that was not good enough for her.
Later, Sheetal asked him whether she could hug him, and King Khan opened his arms and gave her a tight squeeze.
Sheetal writes a detailed account of the KBC experience on her blog.
If you encounter/meet/see film or television personalities, take a photograph or a video of the star(s), please scan the photograph(s) and mail the pictures and video clips to us. We will feature the best images and video clips right here on Rediff Movies.