April 13, 2007 19:20 IST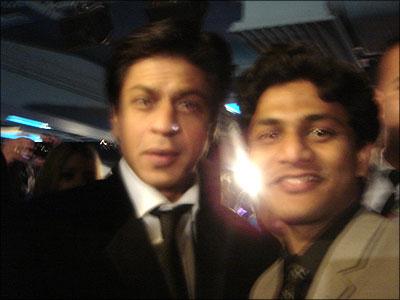 Reader Aftab Hussain wrote to us, thanking us for helping him meet Shah Rukh Khan, and getting himself this prized picture.
It all started when he logged into rediff.com and stumbled upon a picture of SRK's impending arrival at Madame Tussauds in London. He visited the Tussauds web site, and participated in an online quiz. The next thing he knew, he was invited to the unveiling of SRK's wax statue on April 3.
Aftab writes that it was a dream come true for him. He met SRK, got an autograph, and posed for pictures with the supernova.
'He is really down to earth and yeah, the most important thing is that he looks much smarter than his wax statue,' Aftab writes.
If you encounter/meet/see film or television personalities, take a photograph or a video of the star(s), please scan the photograph(s) and mail the pictures and video clips to us. We will feature the best images and video clips right here on Rediff Movies.
Also check out: Other Stars Readers Spotted