April 10, 2007 17:02 IST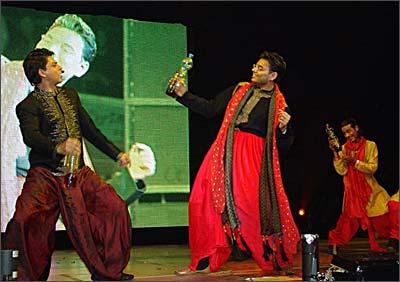 Reader
Vikram
had a chance of meeting
Shah Rukh Khan
during the 2004 leg of the superstar's Temptations tour.
During a concert in Dortmund, Germany, SRK spotted Vikram in the huge crowd and called him on stage. He asked him some personal questions, since he was from Delhi, where SRK hails from.
Then SRK told him the theme, an on-stage enactment of a scene from Devdas.
He asked Vikram to repeat some dialogues after him and gave him Pepsi (pretending it was alcohol, for the audience's benefit), and had one for himself -- after which SRK broke the bottle on his own forehead!
Immediately after that, Vikram asked him discreetly whether he was hurt or blood was coming out from his head. Then they danced on the Challak challak song from Devdas.
That's not all, SRK gave Vikram a 4.5 litre bottle of Black Label Whiskey autographed by him, and told him to open that on his wedding day.
If you encounter/meet/see film or television personalities and photograph them, please scan the photographs and mail the pictures to us. We will feature the best images right here on Rediff Movies.