February 10, 2006 17:43 IST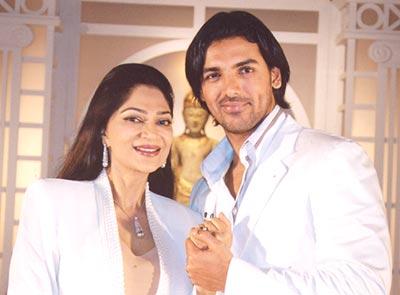 This Sunday, Bollywood hunk John Abraham [Images] joins Simi Garewal [Images] in her popular chat show Rendezvous with Simi Garewal.
And the two chat about everything from bikes to Bipasha.
rediff.com offers you a sneak preview of the show.
Simi: Fame and adulation is something that happens outside of you. Does it change something inside as well?
John: It does to an extent. In the sense, it works two ways actually. Either you become a little more secure about yourself or you become a little more insecure about yourself post getting a lot of fame. Because the more you get the more you want. And that is where most of us fall, very honestly.
Simi: Didn't you date a lot of girls?
John: I did date girls, but there were never one-night stands or frivolous relationships.
Simi: When you started seeing Bipasha you were quite unknown and today it's you who gets the most attention. Has that changed the balance in your relationship?
John: Not in the relationship. But, yes, the projection outside the relationship has changed. You know, earlier I was Bipasha Basu's [Images] boyfriend but today, I am John Abraham. I have an identity of myself. It's great to be in a relationship, but it is very important to be known singularly.
Simi: Is your relationship settled enough to withstand the pressures of Bollywood?
John: Our relationship is very settled because Bipasha is very mature. But there are pressures other than Bollywood. There is compatibility; there are other issues that are more important than just pressures from outside and I think that's something we deal with in everyday life.
Simi: Are you protective or do you like to be mothered?
John: Well, I thought I was protective. But when Bipasha and I argue, she always says, 'Don't treat me like your mother.' Because I am always being pampered, I need food to be served, but I am quite self-sufficient when I am alone. But, I guess you take people for granted when you know they are there. I know Bipasha is always around.
Simi: Are you a better brother, lover or son?
John: Better son. I would like to believe so. I want to keep my parents extremely happy.
Simi: Is money important?
John: Yes, money is very important. But I don't splurge. For me, one rupee is 100 paise. I have imbibed the value for money from my father. I did my schooling from Bombay Scottish, where all my mates had cars. I used to demand my father for a car. But, he always told me, 'Learn to travel like a common man.' Even today, my father travels by public transport in spite of me having gifted him a car with a driver.
Simi: Is a bike a female or male?
John: She. She is elegant, graceful.
Simi: So, there are two shes in your life?
John: Yes, one keeps changing and getting updated.
Simi: And the other?
John: The other one is constant.
Don't miss John Abraham on Rendezvous with Simi Garewal on Star World, February 12, at 9.30 pm IST.