Advertisement
May 13, 2005 18:20 IST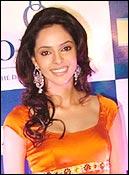 Mallika Sherawat will debut under the international limelight with the premiere of her new film, The Myth, opposite Jackie Chan [Images], at the 58th Cannes [Images] Film Festival 2005.
And that only means more work for her fashion designer, Anita Dongre!
Before heading for Cannes, Anita spoke to News Editor (Entertainment) Syed Firdaus Ashraf about what outfits she has planned for Mallika:
I have been doing her personal wardrobe for the last couple of months, and Cannes did not seem too big for me initially. But the media has been calling me everyday and it has slowly dawned on me that Cannes is big!
| | |
| --- | --- |
| | More on rediff.com! |
| | |
I am not nervous about her clothes considering what happened to Aishwarya Rai [Images] when she went to Cannes last year. Mallika is happy with what we have given her. I cannot worry about what people say because we have put in our best. It hurts when your work is criticised. Appreciation is welcome for any designer.

I cannot tell you about her clothes because Jackie Chan has asked her to keep it a secret. All I can say is her clothes use traditional Indian fabric.

Jackie said she should be elegantly dressed and must wear something predominantly Indian. But the style should be contemporary. He has left the choice of outfits to her. 

But Mallika will not wear a gown or ghagra choli.

We started work on her clothes a few days ago. I first approached the jewellers Orra and only after that started working on her outfits. We are a land of jewellery. We have better stuff in India compared to West, as far as jewellery is concerned.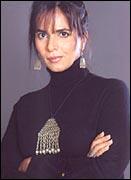 She will wear rose cut diamonds and coloured special stones (priced at a whooping Rs 45 million!).

But let me make it clear that Mallika will not stand out like a Christmas tree at Cannes. She will stand out among others but that will be because of her jewellery, garments and beauty.
She is happy with what she is wearing and has the confidence to present herself at Cannes. She has the right attitude and spunk. Her sexiness comes from her attitude. She has a great body and it's fun to design her clothes.

Colours that suit her are off-white, red and gold.

Mallika will be in Cannes for three and a half days and is taking along eight dresses. She has to attend three press conferences and two red carpet events.

I won't make a blunder by making her wear a gown. You cannot put a kimono on a Western girl and ask her to walk like a Chinese girl. If you tell a western girl to wear a sari, obviously she will not be able to carry herself the way an Indian woman does.

We make the same mistakes with gowns. We don't have the figure to wear a gown. That was an error made by Aishwarya and we don't want to repeat it.