Advertisement
January 06, 2005 13:10 IST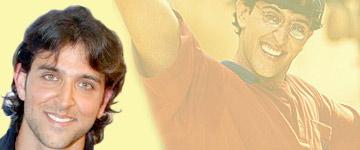 Bollywood's brawniest shoulders just shrugged off another year.
Hrithik Roshan [Images], heartthrob and pin-up boy extraordinnaire, has had a good year, winning critical acclaim for his performance in Lakshya while being applauded all around for his incredible dancing in the Main aisa kyon hoon song. The actor was even voted in the top five actors of 2004 by rediff.com readers worldwide.
And, despite being one of the most wanted stars to grace any banner, he has shied away from many projects and has kept the industry guessing: current speculation is rife as to his work in the Koi...Mil Gaya sequel as well as rumours of his playing the cool-as-ice villain in Dhoom 2 [Images].
On January 10, Hrithik Roshan turns 31!
SMS your birthday wishes to Hrithik!
Just type HRITHIK followed by space, and your greeting. Then SMS it to 7333 by 3 pm, Monday, January 10.
We will ensure Hrithik gets your sms wishes.
Is your Hrithik movie collection complete? Buy his films on DVD/VCD now!