Home | Movies

Not invited to the Bachchans? You're passe!

Lata Khubchandani

First, it was the Kapoors whose lavish Holi parties were famous.

Now, it is the Bachchans. In the late Eighties and early Nineties, Amitabh and Jaya Bachchan hosted the most lavish Holi parties seen in the film industry.

The guest list included pretty much the entire film industry, the music industry, the television industry, which meant that other filmi parties died a natural death. Everyone who was anyone was at the Bachchans!

When Bachchan's father, the late poet Harivansh Rai Bachchan fell ill, the parties were discontinued. They remained discontinued until he passed away two years ago.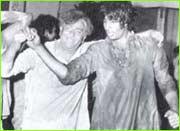 Director Tinnu Anand recalls: "Amit has been erratic with his Holi parties. I attended them four times I think. Then he stopped."
But this year, after the mandatory year of mourning, the Bachchans will throw a lavish Holi party once again. The invitees reportedly include everyone who has worked with the Bachchans: Amitabh Bachchan's peers, Jaya Bachchan's friends and son Abhishek's peers.
Each invitee to this year's do has been invited over the telephone. Abhishek has invited all his buddies himself, while Bachchan Sr's secretary has called those who have worked with him.
Tusshar Kapoor says: "I have been invited for Abhishek Bachchan's Holi party. Abhishek called me and a whole lot of people. I remember attending one in the Bachchans' house over ten years ago. It was held at Pratiksha, the old bungalow [in Mumbai's north-western suburb of Juhu]. Everybody was there -- the entire industry.
"There was this tank of water into which everybody was thrown. There were showers in the garden to wash off the colours.
"I remember you couldn't recognise anybody. Everyone was so dirty that you could not identify them. So everyone kept peering at everyone else. The day was spent singing and dancing."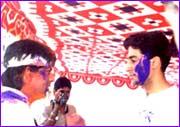 Earlier, being invited to a Kapoor Holi bash meant you had 'arrived'. Now, if you are not invited to the Bachchans' do, you might as well be an unknown. But invitees to all the Bachchan parties are just as fulsome with praise over their hospitality, as those invited at the Kapoors.
Rohit Roy (Plan) was thrilled to be invited by the Bachchans for a Holi party once: "I will never forget that Holi. I was new to the industry and we had so much fun at Mr Bachchan's house. He looked after us so well."
Amar Upadhyaya (LoC-Kargil) too remembers the Holi at Bachchans'. "I attended their Holi parties for two years. And then they stopped. I remember going to their bungalow Pratiksha. It was great fun."
Director Hansal Mehta (Dil Pe Mat Le Yaar) too has been a guest at the Bachchans' parties: "I had so much bhang one year. I had to edit an episode of Khana Khazana [a cookery show on Indian television] in the evening. I just didn't know what I was doing. But it was all fun and merriment at the Bachchans. He is a wonderful host."
Ruby Bhatia, former Channel [V] veejay, who has attended a Bachchan fete, recalls: "One Holi I will always remember was the one at Amitabh Bachchan's house. There I was, on my first ever Holi in the great Amitabh Bachchan's house.
"They had this shower where you could wash off and then go get coloured again. I found myself at the shower at the same time as Amitabh. I thought, 'Oh my God, I am taking a shower with Amitabh!' All I could think of was Silsila, where he and Shashi Kapoor have this joke. It was very funny!"
Being called to a Bachchan bash is no doubt flattering, but some invitees this year have been taken aback. "I got a call from his office," says a young actor. "I can hardly count myself among Bachchan's friends."
Illustration: Uttam Ghosh, Uday Kuckian
Tell us what you think of this special