Home | Movies

Wholly Holi!

Sukanya Verma

Lively, colourful and full of music, masti and merry-making, Holi is celebrated all over India.

Like Holi, Hindi films too love to make a song and dance of every situation.

rediff.com lists some memorable Holi moments in Hindi films.

Flirt, tease, soak!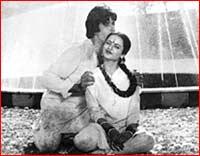 Most Holi songs are an excuse for the hero and heroine to get up close and soaking! And so you have Dilip Kumar and Meena Kumari flirting playfully in Kohinoorís Tan rang lo ji aaj mann rang lo. The song was composed by Naushad, who also scored Mother India's Holi aai re kanhaai.
V Shantaram's Navrang also set the mood with his favourite heroine and wife Sandhya dancing to the beats of the mischievous Arre ja re hat natkhat.
But nothing can match the somewhat brazen Rang barse from Silsila:
Offscreen: Amitabh Bachchan crooned these naughty lines written by his poet father Dr Harivansh Rai Bachchan with great gusto.
On screen: Big B threw caution to the winds as he openly flirted with costar Rekha.
White is right
If it is Holi, there is no other dress code but white. So actors and actresses dressed in their whitest best before colours were splashed all over them.
Hindi film widows are forbidden to drape themselves in anything but white. It is the industry's way of symbolising the absence of colour in their life. So the enthusiastic Rajesh Khanna tries to talk Asha Parekh into doing a Holi jig with him with Aaj na chodenge hum humjoli, khelenge hum holi in Kati Patang.
Hide me a colour!
Planning to gatecrash at someoneís private Holi celebrations? Do a Sunil Dutt or Shah Rukh Khan of Zakhmi or Darr. These two smart actors smeared themselves with colour so no one could recognise them in Aayee re aayee re holi and Ang se ang lagana.
Smear, splash and patch up!
The basic idea behind Holi is to forgive and forget. Holi ke din dil mil jaate hai from Ramesh Sippy's Sholay talks about letting bygones be bygones. In Subhash Ghaiís Saudagar, old friends-turned-sworn enemies Dilip Kumar and Raaj Kumar shake hands, smearing gulal (colour) on each other. Unfortunately, there was no song for the occasion.
The Roshans and the Chopras
Music director Rajesh Roshanís contribution to Holi songs is evident in Mal de gulal mohe (Kaamchor), and Apne rang mein rang de (Aakhir Kyon?). Interestingly, both films featured brother Rakesh Roshan.
And you just cannot ignore the king of romance, Yash Chopraís monopoly over Holi numbers. He is responsible for some of the most popular Holi songs in Hindi cinema. Apart from Silsilaís phenomenal Rang barse, he got Hridaynath Mangeshkar to score the melodious O dekho holi aayi in his Mashaal, filmed on Dilip Kumar, Waheeda Rehman, Anil Kapoor and Rati Agnihotri.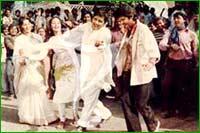 Later, the musical duo, Pandit Shiv Kumar Sharma and Pandit Hariprasad Chaurasia composed the vivacious Ang se ang lagana for Chopra's Darr.
Following his fatherís footsteps, Aditya Chopra too picturised the elaborate Holi dance sequence, Soni soni (Mohabbatein), with Shah Rukh Khan, Aishwarya Rai, Uday Chopra, Jimmy Shergill, Jugal Hansraj, Shamita Shetty, Preeti Jhangiani and Kim Sharma.
In the name of Holi colour
Holi formed an important backdrop in the narrative of some films. Like the Waheeda Rehman-Dharmendra-Jaya Bhaduri starrer Phagun. S D Burman's beautiful composition Phagun aayo re explained the theme perfectly.
The Aamir Khan starrer, Holi, was an intense drama about college politics. But one of its most strategic scenes happened on H-Day.
Not so Holi!
Guideís Piya tose naina lage re was not a proper Holi number. But its first stanza went something like Aayi holi aayi, sab rang layi, bin tere holi bhi na bhaye [Holi is here in all its colours. But it is colourless without you]. That said it all.
Holi fever slips!
In recent times, there have been hardly any Holi numbers to talk about. K Vishwanath's Dhanwan did feature Rang di preet ne rang di, starring Ajay Devgan, Karisma Kapoor and Manisha Koirala. The song was a reasonable success.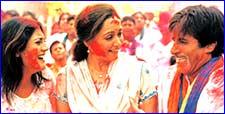 Bachchan tried to repeat the Rang barse magic with Hema Malini in Baghbanís racy Hori khele Raghuveera. Of course, Rang barse is Rang barse, but the latter too climbed the popularity charts to a considerable extent.
Meanwhile, Bachchan Jr Abhishek celebrated Holi, village-style, in Koi bheega hai rang se from Mumbai Se Aaya Mera Dost.
They are a few in number, but Holi songs will never go out of vogue in Hindi cinema. They give the actors a chance to let their hair down, sing, dance and generally have a blast. Isnít that what Holi is all about?
Illustration: Uttam Ghosh, Uday Kuckian
Tell us what you think of this special
Hear these songs on Rediff Radio