Home | Movies

Holi at RK: a tradition of its own

Lata Khubchandani

Holi at the RK Studios was a tradition of its own.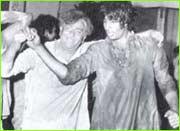 When showman Raj Kapoor celebrated Holi at Mumbai's RK Studios, the festival of colours always acquired new meaning. It was a star-studded event every year.
As new entrants poured into the industry, people would wait to see which of them were invited to Holi at RK. Long ago, when Rekha was the subject of disdain for her ties with Amitabh Bachchan, she made a high profile entry at RK's Holi celebrations. She touched Raj Kapoor's feet. And that was all it took. She was 'accepted' into the group of stars.
Regulars at the RK Holi events were Amitabh Bachchan, director Manmohan Desai, artistes Kamini Kaushal, Pran and Premnath.
Even when Raj Kapoor's health dwindled, the Holi festivities continued, until two years before his death in 1988.
Neetu Singh, wife of Raj Kapoor's son Rishi, captures some of that mood:
"Holi at RK was always fun with family and friends. There would be a lot of dancing and singing. Everyone was dunked into the pool [of coloured water], but not the women, of course.
"Women only played with dry colours, and Papa saw to it that no one misbehaved with them. He would take keen interest in the arrangements and was a wonderful host.
"I remember [Kathak dancer] Sitara Devi was one of Papa's favourite invitees. She was full of high spirits and would dance and sing.
"Jhama's, the restaurant, used to supply the food for Holi. The RK Holi celebrations were famous."
"There were always gatecrashers at those events," recalls photographer Jagdish Aurangabadkar, a regular at the Holi celebrations at RK.
"Rajji's costars and crew from his films were all there. There were, of course, stars like Amitabh Bachchan and Shatrughan Sinha. But there were also stars like Sanjay Khan. Caste and religion never mattered. People of all castes came. It wasn't about my festival or your festival. It was truly a celebration of love and affection. It was a huge gathering each year with everyone mingling, dancing and singing.
"Rajji was in the best of moods when he played host and he would dance too. He was in his element then. He would play the dholak and dance. Rajji was particularly fond of music. And I remember Manohar Deepak, the singer, always attended.
"In fact, everyone would drink bhang and get drunk. I recall some men would also drink beer.
"A tank was built for the occasion and would be filled with coloured water. As each new guest came in, he was dutifully dunked into the pool. Only then was he part of the party.
"After the bahus came into the family, the women were not dunked into the pool. Rajji was very clear that the women must be treated with dignity. We would all see [the normally reclusive] Krishna Raj Kapoor too on these days.
"Everyone was fed. There was a lot of food, but not a great variety because it was not about eating party. The samosas and jalebis from Jhama's were mouth-watering. The celebrations would start around 11 am and end at about 4 pm every year."
Illustration: Uttam Ghosh, Uday Kuckian
Tell us what you think of this special