| | |
| --- | --- |
| Anand Mahindra, vice-chairman and managing director, Mahindra & Mahindra | |
| | |
| | |
| | |
| | |
| | |
| | |
| | |
| | |
Advertisement
August 01, 2008


"A Mahindra in every household," Mahindra & Mahindra vice-chairman and managing director Anand Mahindra gave a clear indication of his intent on Wednesday after acquiring the assets of Pune-based two-wheeler maker Kinetic Motor Company [Get Quote] for Rs 110 crore (Rs 1.1 billion).

Mahindra, in fact, has been working towards this end ever since he became the chief executive of the company in 1997. Even at that time, he had a sizeable presence in rural households with his line of tractors. It only got strengthened when he acquired Punjab Tractors [Get Quote] some time back. Now, every third tractor sold in the country is a Mahindra.

He pioneered Mahindra & Mahindra's foray into sport utility vehicles. Earlier, the company had a presence in utility vehicles used for commercial purposes. It was Mahindra who moved the company up the value chain to launch Scorpio, which in no time went on to become India's largest-selling sports utility vehicle.

He even launched a mid-sized sedan, Logan, with European carmaker Renault, though sales are now believed to have fallen way short of projections. And soon, 53-year-old Mahindra will have two-wheelers in his portfolio of products.

Mahindra had decided to get into the two-wheeler business some 18 months back when he hired Anup Mathur, an executive director at Hindustan Unilever, to head his group's new venture.

The timing couldn't have been worse, some experts had said. The outlook for the sector had just turned negative after a dream run of almost two decades. And the sales numbers only got worse as the months passed by. Two-wheeler sales in the country declined 8 per cent in 2007-08 as rising interest rates kept buyers away.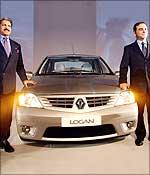 But Mahindra was clear that his ambition to have a Mahindra in every household wouldn't be realised without two-wheelers.
"Large sections of Indian population are yet to get mobility," he said. Sales may have slowed down, but India continues to be the world's second-largest market for two-wheelers after China.
Naturally, Mahindra is dead serious about the business, in spite of the adverse business climate. Mahindra & Mahindra has also acquired Engines Engineering SpA in June, an Italian two-wheeler design company, heralding its entry into the segment.
"Product development capability is going to be our strength," said Mahindra, adding: "We wish to be present in all aspects of the two-wheeler business."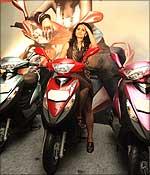 Automobile analysts said although a late entrant into the crowded two-wheeler market, Mahindra & Mahindra, with its global sourcing expertise, experience in building differentiated brands and strength of its vehicle finance arm, Mahindra Finance, does have the wherewithal to compete with established players such as Hero Honda, TVS [Get Quote] and Bajaj Auto [Get Quote].
Still others want to know what would be the future of two-wheelers in the country once Tata Motors' [Get Quote] Rs 100,000 car, Nano, comes out later this year.
Will Mahindra be able to build a new brand from scratch?
The MBA from Harvard Business School will have to pull out every trick he learnt there to be able to answer in the affirmative. Motown can look forward to some exciting time ahead.
---
Images: Anand Mahindra, vice-chairman and managing director of Mahindra and Mahindra (Photograph: Indranil Mukherjee/AFP/Getty Images); Carlos Ghosn, President and CEO of automobile giants Renault and Nissan (R) and Anand Mahindra (Photograph: Indranil Mukherjee/AFP/Getty Images); Managing Director of Kinetic Motor Company, Sulajja Firodia Motwani sits on a Kinetic-SYM Flyte scooter (Photograph: Raveendran/AFP/Getty Images) More Specials