Advertisement
April 30, 2008


Uncertainty is at a high. Estimates by different institutions of how much the Indian economy will grow in 2008-09 range from 7 per cent to 9.5 per cent. Other indicators, too, reflect this state of affairs.

If there is a single number that encapsulates, if unreasonably, the sentiments in the Indian economy, it is the BSE Sensex. From around 21,000 in mid-January, it crashed to 15,000-levels by the end of the month. This was not due to a slowing economy, but was a harbinger of things to come. Now, three months later, the Sensex is in the 15,000-16,500 band, down over 20 per cent.

This weak sentiment spilled over to real estate. A report by investment banker Merrill Lynch says that there were few takers at a government auction held in March to sell five parcels of land at Mumbai's Bandra Kurla Complex.

Merrill Lynch also estimates that sales volume of residential property in Delhi NCR fell by 50-70 per cent from last year, more than its earlier estimate of 40 per cent. There have been declines in other cities like Hyderabad, Chennai and Bangalore too.

Meanwhile, inflation has been climbing. For the week ended 29 March, it hit a three-year high of 7.41 per cent (before falling to 7.14 per cent the following week due to base effects and easier edible oil prices).

In response, the Reserve Bank of India [Get Quote] increased the cash reserve ratio by 50 basis points to suck out some liquidity from the system and check inflationary pressures.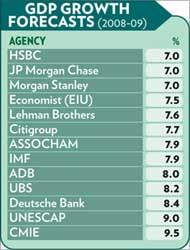 On the global front, the US sub-prime crisis continued sending aftershocks across the world. The US economy is now believed to have slipped into a mild recession. Crude oil prices were at an all-time high of $114-plus a barrel at the time of going to press.
All this is a far cry from the smooth upward path that India had been on since 2003-04, with growth ticking along at over 8 per cent. But now, the average Mr Jain is worried.
However, Rahul Bhargava, 48, an entrepreneur in Mumbai, has worked out his finances to deal with the situation. He says: "I have invested 90 per cent of my portfolio in equity." Doesn't the turmoil in the bourses affect him? "Since my investments are for the long term, I don't have to worry about these blips; in fact, they give me a chance to pick up value stocks," he says.
Bhargava took a loan to buy his house in August 2006. But he is cushioned from rising rates as he opted for a fixed rate. Moreover, both Rahul and his wife Poonam are 'conservative' spenders. The Bhargavas are sitting pretty.
But they are somewhat of a rarity. Here, we have dealt with eight questions that are bothering most people by addressing the underlying worries.
More Specials
Powered by