Advertisement
April 30, 2008


You have sat and watched friends, neighbours and everybody else around you make a killing from the stockmarket during the last few years. When they asked you to invest in 2003, you were not sure if equities were worth the risk.

Then, every time you happened to glance at a business channel, the arrows seemed to be green and the market seemed to be going unilaterally upwards. You regretted not having bought that stock in 2003, because, clearly, it was too expensive then. Now you are agonising over an opportunity loss of over 300 per cent.

If you have spent the last couple of years in regret, here is your chance. Since January 2008, stocks have tumbled and what was three months ago an overpriced stock has now come into reasonable valuations. The BSE Sensex, is down by over 20 per cent to 16,481 on 17 April, from 20,582 on 10 January.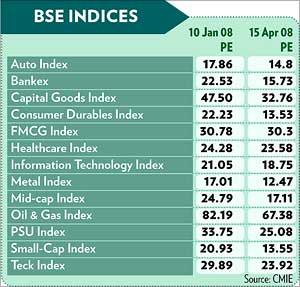 Other indices have fallen even more sharply. BSE's Small Cap Index shed 35 per cent during the same time, while the BSE Mid Cap Index has tumbled by 29 per cent. FMCG is the only category that has come off relatively unscathed, a drop of 1.3 per cent between 10 January and 16 April 2008.
On the valuation front, at the current levels, the Sensex is trading at about 15.7 times FY09 estimated and 12.9 times FY10 estimated earnings. Including the strategic investments of the Sensex companies, valuations would be 14.1 times FY09 estimated and 11.8 times FY10 estimated earnings. Earnings momentum is still intact and valuations have come down significantly compared to the January highs.
While numbers do not indicate that the bottom has been reached, what is important is that valuations are sensible.
Downside risk will always remain in equity investments. But this risk is certainly lower than in January 2008. Most of the pain has been discounted in prices. Investors should start looking at opportunities at these levels, as it is always difficult to catch the bottom.
You cannot go wrong if you keep to the basics and pick fundamentally good companies. Also, have a long-term perspective for your investment. Markets are volatile, and more than ever, now is not the time to park your short-term funds in equities.
Markets may not see a V-shaped recovery, implying that the down phase could last longer. As and when a stock you have had an eye on drops its price, get in and stay invested. Once market sentiment turns positive, equities will be back in favour.
Don't invest at one go. Go slow, buy in dips, and in small quantities. Then, stop looking at the ticker.
More Specials
Powered by