Advertisement
April 30, 2008


Over the last four years or so, like the stockmar­ket, real estate, too, was climbing. "In certain markets, the capital appreciated too fast, in some cases by 300 per cent, signalling a lot of liquidity and speculation," says Sanjay Dutt, joint managing director, of real estate consultants Cushman and Wakefield India.

That worried the powers that be, who, in April last year, squeezed liquidity, making cheap home loans harder to get. Meanwhile, speculation continued to push prices up. Finally, around July-August 2007, the effect began showing. Investors found few people willing to borrow huge amounts at high rates to take homes off their hands.

So prices first stabilised and then turned down, 20-30 per cent by some estimates. Volumes fell too; with the most dramatic, 50-70 per cent, in Delhi NCR. Cities like Hyderabad, Chennai and Bangalore, too, did not go unscathed.

So, is it a good time to buy a home? If it is for self-use, yes. "The days of speculation are over," says Anshuman Magazine, chairman and managing director, CB Richard Ellis South Asia, a real estate consulting firm.

Will demand drop? According to Magazine, the market boomed as the economy was doing well, new jobs were being created and salaries were going up. The emergence of the suburban housing market gave people an opportunity to buy cheap and mortgage loans were available at lower prices.

"Now, deceleration of economic growth will impact purchasing power," he says. If the current increase in CRR leads to a hike in interest rates, it will further act as a dampener.

The job market is seeing consolidation and HR experts feel hikes will be more moderate in the future. "This will bring down the housing demand," says Magazine.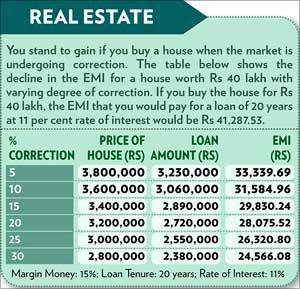 Will prices drop? Analysts say not significantly in major markets due to the holding capacity of the bigger developers, but lack of funding options may force some local operators to drop prices.
Dutt thinks Tier-II and Tier-III cities will see a 20-30 per cent drop. Also, some speculators, seeing the end of high appreciation, may want to sell. And the CRR hike would further strengthen this view.
Where to buy. Buy where infrastructure is being developed. The best option would be to look at ready-to-move-in properties as they are the least risky.
Just a blip? Dutt expects the market to bounce back in two years. "Prices will recover, but there will not be another 200-300 per cent increase," he says.
The recovery will happen provided inflation is curtailed, the growth momentum is not disturbed, the government is stable, and the US doesn't slip into recession, he predicts.
More Specials
Powered by