Advertisement
December 15, 2005 00:29 IST
Last Updated: December 15, 2005 10:09 IST


Infosys [Get Quote] chairman and chief mentor N R Narayana Murthy and Mittal Steel chairman Lakshmi Mittal are among the world's top 15 most admired CEOs in 2005.

A global study, conducted by Burson-Marsteller with the Economist Intelligence Unit, on Wednesday named Murthy as the world's eighth most admired CEO, in a list of 15 led by Microsoft Chairman Bill Gates.

Lakshmi Mittal, the Netherlands (since his company is registered in the Netherlands, is ranked number 15 in the list.

Narayana Murthy, who is the only person from India to figure in the list, ranks ahead of Jeffrey Immelt of General Electric, Rupert Murdoch of News Corporation, John Chambers of Cisco Systems and Jorma Ollila of Nokia.

A majority of the CEOs on the list are from the United States and Europe.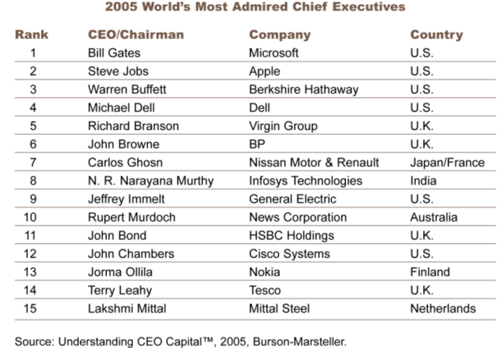 The online study, conducted in 65 countries between May and July 2005, was completed by 685 business influentials -- CEOs, senior executives, financial analysts, business media and government officials.
The participants were drawn from a cross section of 19 industries.
While Gates tops the list, the second and third places went to Steve Jobs of Apple and Warren Buffet of Berkshire Hathaway, respectively.
Several interesting characteristics about the world's top 15 most admired leaders surfaced:
Despite the predominance of American companies among the top four most admired leaders, more than half (nine of 15 or 60 percent) represent other regions -- UK (4), Finland (1), Netherlands (1), Japan/France (1), India (1) and Australia (1).
Eight of the top 15 leaders (53 percent) are company founders.
All of the global most admired are insider CEOs (CEOs who have been with the same company for three years or more).
No female CEOs or chairmen were chosen.
"Business decision-makers clearly voted for long-term performance and proven track records over fleeting success," Patrick Ford, Burson-Marsteller's Global Corporate/Financial Practice Chair, said, adding, "The tenures of these top-ranking CEOs are not short-lived. They had an average tenure of 21 years to repeatedly prove themselves."