Statistics
Final: India vs West Indies, Lord's, June 25
On the morning of June 25, Lord's was bathed in bright sunlight. England, by contrast, was bathed in gloom -- none in the host country thought much of an India versus West Indies final, which they deemed so one-sided that Englishmen who had bought their tickets in advance stood outside the gates, hoping to sell them to West Indian and Indian supporters, for reduced rates if need be.
Apparently, few if any were willing to listen to India's inspirational skipper Kapil Dev, who the evening before the match responded to questions about his team's underdog status against the two-time champions with a curt "Don't write us off!"
24,609 spectators watched as Clive Lloyd won the toss and, looking to exploit early life on the track, opted to bowl. The decision proved right -- Joel Garner (12-4-24-1) kept making the ball rear chest high off a length while at the other end, Andy Roberts (10-3-24-3) raced in to bowl flat, and very fast. Sunny Gavaskar (2 off 12) went cheap, edging Marshall to wicket-keeper Jeffrey Dujon in the third over.
More drama was provided by Krish Srikkanth, who hooked Roberts savagely for four. The television commentators of the time nodded sagely. "Roberts is setting him up," one said. "He normally bowls a slower bouncer, then a faster one." Sure enough, the man was out on the fence, and Roberts hurled down his faster bouncer -- which Srikkanth pulled off his eyebrows for 6. He then added insult to injury by going down on one knee and smashing the bowler to the square boundary for four, in course of what proved to be the eventual top score of 38 off 57, with seven fours besides the six.
Such moments of derring-do, however, were rare. India struggled against quality pace on a helpful track, and went in to lunch at 100/4, with Michael Holding accounting for Mohinder Amarnath and Larry Gomes with his innocuous spin taking out Yashpal Sharma through a mishit drive in successive overs after the two had taken India to a respectable 90/2.
Sandeep Patil (27/29) and Kapil Dev (15/8) both looked good but fell cheap, and only stubborn resistance by the tail with number 9 Madan Lal (17 off 27), number 10 Syed Kirmani (14 off 43) and number 11 Balwinder Sandhu (11 off 30) made the eventual total of 183 possible. Extras, again, performed creditably, weighing in as fourth highest scorer with 20.
With no runs on the board to play with, Kapil Dev decided to attack, setting a field that would not have disgraced a Test match. Balwinder Sandhu produced his biggest banana inswinger yet -- a ball that started out about a foot-and-a-half outside off, to which Greenidge covered up and raised his bat high only to see it curve back and hit the top of off stump. Des Haynes, however, held one end steady and Viv Richards, batting with evident contempt, swept, drove and pulled his way to 33 off 28 deliveries before Kapil Dev imposed himself on the match. Richards pulled at Madan Lal and, thanks to some seam movement, got the ball high on the bat. Kapil, fielding at orthodox midwicket, ran back in seemingly lazy fashion, head turned to see the ball coming from behind him, and plucked off a catch that only he could make appear so simple.
That wicket, at 50, caused panic in the West Indies ranks. The Indians, who had looked dejected while Richards was on the rampage, rediscovered their fielding form, and Madan Lal and Roger Binny teamed up to throttle the Caribbean cavaliers. The combination of tight bowling, alert fielding and their own nerves triggered a collapse of 3 wickets for 19 runs, with Haynes (13 off 33) mis-driving Madan Lal to Binny, Gomes (5 off 16) edging Lal to Gavaskar at slip, and Lloyd (8 off 17) driving Binny to Kapil at mid off. When Bacchus edged Sandhu to Kirmani behind the stumps immediately after tea, Windies found themselves 76/6, and out for the count.
At this point Jeffrey Dujon (25 off 73) steadied the innings with calm, sensible batting, ticking the runs off and steadying his partner Malcolm Marshall (18 off 51) in a partnership that took the score to 119. Just when the game seemed to be getting away from India, however, Jimmy Amarnath struck -- a gentle in-ducker had Dujon chopping onto his stumps, and his disgusted reaction immediately thereafter indicated that he knew he had just blown the match for his side. From that point on, it was no contest -- India wrapped up the last three wickets for a further 21 runs, ending the West Indies innings on 140 (52 overs) to seal an incredible 43 run win.
The result saw scenes of indescribable pandemonium in the hitherto staid environs of Lord's. Kapil Dev couldn't seem to stop grinning and sloshing everyone in sight with champagne; Srikkanth threw convention to the winds and puffed merrily on a cigarette from the Lord's balcony; Mohinder Amarnath, whose loping run to the wicket with a 'lucky' red kerchief poking out of his trouser pocket had made him a figure of fun before two successive man-of-the-match-winning performances in the semi-final and final gave him the last laugh, finally took the red kerchief out and waved it like a banner and board president N K P Salve, who appeared to have been the main beneficiary of Kapil's champagne largesse, tipsily waved a Tricolour in everyone's face...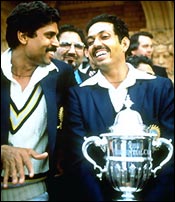 It was, as everyone acknowledged, a team performance par excellence. Kapil Dev led from the front, topping the batting with 303 runs with an average of 60.6 besides taking 12 wickets at 20.42 and 7 catches including the match-winning one of Richards in the final. But the real scene stealers were the medium pacers: Roger Binny with 18 wickets at 18.67 was the highest wicket-taker in the tournament, but even he was outdone by Madan Lal with 17 wickets at a mere 16.76. The economy rates were as remarkable: Kapil 2.92; Sandhu 3.58, Madan Lal 3.43, Amarnath 3.63 and Binny 3.82 made up five bowlers none of whom could be taken for four runs an over; an outstanding performance by any yardstick. And oh yes, one Syed Kirmani hauled in 12 catches and two stumpings, many of them standing up to the seamers, to give the bowling teeth.
The win was to have other, more far-reaching consequences. For the first time, Indian cricketers were to feel the taste of money. The win was worth 20,000 pounds, for starters. Industrialist Swaraj Paul added 2,500 pounds to the kitty. Amarnath hauled in 1000 pounds for his two man of the match awards in the last two games. The board gave each player Rs 5 lakh, to which Salve (perhaps it was the champagne talking) decided, impromptu, to add Rs 100,000 apiece, all of it tax-free.
Salve's promise of extra largesse was also to underline the abilities of two people who would influence Indian cricket to a considerable extent in later years. While the board chief worried over how to raise the money, Inderjit Singh Bindra came up with the idea of a Star Nite headlined by Lata Mangeshkar. And the organization of the event was left to none other than Jagmohan Dalmiya. It was perfect pairing -- Bindra the ideas man, and Dalmiya the enforcer, were some years down the line to join their talents as president and secretary, respectively, of the BCCI.
And oh yes, there was one final fall-out. Humiliated by officials of Lord's who denied them extra pavilion passes, board officials led by Salve vowed to snatch the World Cup from England and bring it to the sub-continent.
As it turned out, that was no idle threat.