Statistics
First Semi-final: India versus England, Old Trafford, June 22
England -- which had won five of six league games by enormous margins --- was, quite simply, blind-sided. A day before the semifinal, the overconfident hosts -- with the likes of Geoff Boycott and Ray Illingworth leading the way --- were talking of strategy and tactics to be used in the final.
Batting first on winning the toss, Graeme Fowler and Chris Tavare put on a steady opening stand of 69 -- but the signs were already there, as India fielded in tigerish fashion, choking down the runs while the bowlers stuck to line and length. The results of this approach became visible as the England innings progressed -- strokeplayers of the order of the in-form David Gower (17 off 30), Allan Lamb (29 off 58), Gatting (18 off 46) and Botham (6 off 26) were completely shut down as India's support bowlers Roger Binny (2/43 in 12), Madan Lal (0/15 in 5) and Mohinder Amarnath (2/27 in 12) used overcast conditions and their own discipline to strangle the batting side, reducing them from 106/2 at one point to a paltry 213 all out.
Kapil Dev's name never comes up in any list of cricket strategists, but in this game, he was firing on all cylinders both with his field placement, which he tailored to the batsmen concerned, and with his bowling changes -- and nothing so symbolized the latter as his decision to give Kirti Azad a go at Ian Botham. Azad had bowled just two overs in six matches leading up to that point. Here, responding to his captain's call, he produced a spell of 12-1-28-1 that first strangled, then took out England's most dangerous middle order batsman.
England lost its last wicket off the last ball of the innings -- and ended up with a paltry 213. An unusual pointer to the kind of bowling and fielding India produced on the day was in the fact that the fastest innings in the England knock was played by Chris Tavare, that blocker extraordinaire, who took a mere 51 balls for his 32, and ended up as second highest scorer behind opening partner Fowler (33 off 59). Kapil Dev (3/35 in 11) was the most successful bowler, but it was the medium pacers who really turned up trumps.
The chase was clinical in its efficiency. Gavaskar and Srikkanth put on 41 for the first wicket with the former stroking fluently to make 25 off 41 deliveries. Mohinder Amarnath at number three focused on shutting one end down (46 off 92). Yashpal Sharma (61/115) produced, with Mohinder, an exhibition of running between wickets that had the fielding side in disarray.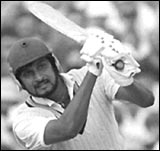 And the last nail was hammered in when skipper Bob Willis decided to bring himself back into the attack, against Sandeep Patil who, a year earlier on the very same ground, had slammed a spectacular 129 off 196 balls in the second Test of the series, including a savage assault on Willis that saw him blast six boundaries in an over.
Willis came on, Sandeep Patil tucked in and by the time the mayhem was over, 'Sandy' had slammed 51 off just 32 balls, and powered India to a win with six wickets, and 5.2 overs, to spare.
Even as England supporters in the stands, upset at what to them was a shock result, took on Indian fans in a bout of fisticuffs, vice-captain David Gower was giving credit where it was due: "India have learnt the value of fielding in the one-day game," he said after the match. "Team work, and Kapil's captaincy, has made this a dangerous side."
Wisdom had dawned -- a bit too late to keep India, bottom of the table in the first two Cups, from strolling into the finals with unsuspected ease.
Second Semi-final: West Indies versus Pakistan, Kennington Oval, June 22
The West Indies won the toss, and invited Pakistan to bat first -- not to self-destruct.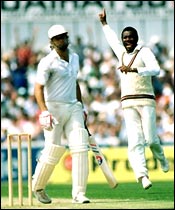 But self-destruct Pakistan did, in an abject batting performance that produced only 184/8 in the allotted 60 overs against steady, but unspectacular, bowling by the Windies quicks. And even that score was made possible only by the determined vigil of opener Mohsin Khan (70/176), who batted for all but three of the allotted overs. Zaheer Abbas made 30 off 38 in a 54-run third wicket stand with Mohsin before throwing his wicket away, coming way down the wicket to Gomes only to chop the ball back onto his stumps with the scoreboard reading a mere 88 at the time.
The third highest scorer in the side was Extras with 28. Roberts, Garner, Marshall and Holding all completed their overs for very few runs, and even the fifth bowling combination of Larry Gomes and Vivian Richards was not tested by the Pakistan batsmen, who allowed those two to bowl their 12 overs for just 46 runs, and the wicket of Abbas.
Against that kind of total, West Indies was not going to give it away. Though Greenidge and Haynes got out relatively cheaply with the first wicket falling at 34 and the second at 56, Larry Gomes played a restrained knock of 50 in 100 deliveries, content to watch Viv Richards at the other end smash 80 off 96 to take the Windies past the target in the 49th over, with eight wickets still in hand.