Statistics
Second Leg: First Round
The return leg games began on June 15. At Edgbaston, England suffered its first defeat at this level against New Zealand -- in a game that saw the pinch-hitting option (Ian Botham at three) tried, as it turned out disastrously, for perhaps the first time.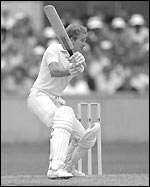 Batting first on winning the toss, England crawled to 234 all out. While Richard Hadlee (3/32) and Lance Cairns (3/44) did bowl superbly, England really had only itself to blame, with none of the batsmen barring Graeme Fowler (69/112) and the in-form David Gower (92 off 96) doing anything of note. With the ball, England got off to a good start aided by umpiring errors that reduced the Kiwis to 3/2, but Geoff Howarth (60 off 104), Jeremy Coney (66 off 97) and Richard Hadlee (31 off 45) held their nerve against good bowling by Bob Willis (4/42) to seal a 2-wicket win off the penultimate ball of the innings.
Sri Lanka nearly produced an upset against Pakistan. After inserting the opposition, Lanka had Pakistan on the mat at 43/5 thanks to Asantha De Mel (5/39) before skipper Imran Khan (102/133) and Shahid Mahboob (77/126) starred in a resuscitating 144-run partnership for the 6th wicket that saw Pakistan put 235/7 on the board at the end of the allotted 60 overs. In response, Sri Lanka started superbly with Sidharth Wettimuny (50/127), Roy Dias (47/73) and Duleep Mendis (33/49) combining to take them to 162/4 at one point. Needing just 74 more with six wickets in hand, however, Lanka folded for 224, thanks largely to the leg spin of Abdul Qadir (5/44).
The Australia-Zimbabwe game was predictable. Opener Graeme Wood (73/121) led a batting effort that saw Australia, batting first, put 272/7 on the board. In their turn, Zimbabwe managed 240 all out, with no batsman barring skipper David Houghton (84 off 108) showing any resistance.
India took on the West Indies on a track of variable bounce at the Kennington Oval and, for the first half the game, watched a batting master-class by Vivian Richards. Greenidge was out early, but Richards starred in successive partnerships of 101 for the second wicket with Haynes and 80 for the third wicket with Clive Lloyd. Six of the seven batsmen who followed managed only single digit scores, but Richards' innings of 119 off 146 powered the side to 282/9 in 60 overs.
India in reply lost both openers cheap (Gavaskar continued to be rested) before Mohinder Amarnath (80 off 139) and Dilip Vengsarkar (32 off 59) combined in a 109-run stand for the third wicket. Vengsarkar retired hurt after taking a Marshall express on the face, and only Kapil Dev (36/46) managed any resistance as India folded for 216 against the near-unplayable pace of Roberts (2/29), Holding (3/40) and Marshall (1/20 in 11 overs).
Second Round
At Old Trafford, England waltzed to a 7-wicket win over Pakistan. Batting first, Pakistan managed 232/8 thanks largely to Javed Miandad's 67/100 and Ijaz Faqih's unbeaten 42/52. In reply, a rock-solid opening stand of 115 between Graeme Fowler (69 off 96) and Chris Tavare (58 off 116) provided the platform for the likes of Gower, Lamb and Gatting to seal the win in the 58th over.
West Indies, which like England was coasting towards the semis, sealed a similar 7-wicket win against Australia, also in the 58th over. Though the Aussies, batting first, put up a respectable 273/6 with the likes of Graham Yallop (52 not out off 74), Kim Hughes (69 off 124) and David Hookes (56 off 74), the outcome was never really in doubt, given the ideal batting conditions at Lord's. Gordon Greenidge (90/140) and Haynes (33 off 46) set it up with a first wicket stand of 79 before the lordly Richards, by now in the form of his life, blasted an unbeaten 95 off 117 as the Windies cruised past the target.
At Derby, Sri Lanka pulled off an upset to ensure that New Zealand's hopes of making the semis were stymied. Asantha De Mel led a Lankan bowling effort with a superlative 5/32 that saw the Kiwis knocked out for 181 -- and even that score would not have been possible but for an enterprising 40 off 55 by number ten batsman Martin Snedden. In reply, Brendon Kuruppu (62 off 120) and Roy Dias (64 off 101) ensured that despite a bad run by the other batsmen, the target was overhauled in the 53rd over.
The game of the round was the India versus Zimbabwe encounter at Tunbridge Wells -- a game that, thanks to a strike by the BBC, was never recorded on video. India batted first and Gavaskar, returning to the top of the batting order, made 0 off 2. Srikkanth (0 off 13), Amarnath (5 off 20), Sandeep Patil (1 off 10) and Yashpal Sharma (9 off 28) were the other culprits in a batting collapse that saw India slump to 17/5.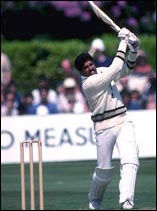 Kapil Dev, who time and again in the tournament had excelled with bat and ball, chose the occasion to produce one of the best innings ever seen in World Cup competition. Treating the Zimbabwe bowling with utter contempt, the Indian captain slammed a magnificent 175 off just 138 balls, studded with 16 fours and six sixes. The excellence of this knock is lost to posterity, but its magnitude is preserved in figures: Kapil Dev's 175 came in a total of 266, in which the second highest scorer was Syed Kirmani (unbeaten 24/56) and only Roger Binny (22 off 48) and Madan Lal (17 off 39) managed double figures. The 8th wicket, that of Madan Lal, fell at the score of 140. The unbeaten ninth wicket partnership made 126 -- and Kirmani's contribution was a mere 24. The innings run rate was 4.43 -- whereas Kapil was scoring at well over a run a ball.
It was, simply put, the mother of all one-man shows.
Kapil had enough energy left to lead the bowling, with an 11-over spell that produced a mere 32 runs for one wicket. The Indian medium pacers, fired up by their inspirational captain who challenged them to play out of their skins, choked the Zimbabweans down in the middle overs (Amarnath 1/37 in 12, Madan Lal 3/42 in 11, Binny 2/45 in 11) and bundled them out for 235 to seal a 31-run win that kept alive their hopes of a semifinal berth. Only Kevin Curran, 73 off 93 balls, offered any sort of resistance.
Third Round
The final set of matches in the round-robin were characterized by two inconsequential games and two crucial ones.
England (137/1, Graeme Fowler 81/77 not out), already sure of a semifinal berth, thrashed Sri Lanka (136 all out) by nine wickets at Leeds. West Indies (172/0, Haynes 88 not out off 136, Bacchus 80 not out off 135) went one better, defeating Zimbabwe (171 all out, Kevin Curran 62/92, Marshall 2/19 in 12 overs, Garner 2/13 in 7, Richards 3/41 in 12 and Wayne Daniel 3/28 in 9) by 10 wickets.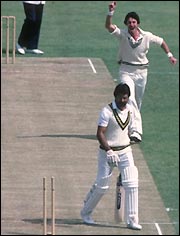 The Pakistan versus New Zealand encounter at Trent Bridge would decide which of those two teams went through to the last four -- and fittingly, it was a corker. Batting first, Pakistan put up 261/3, thanks entirely to Zaheer Abbas (103 not out off 121 balls) and Imran Khan (79 not out off 74) combining in an unbeaten 4th wicket partnership of 147 after the Kiwis removed Mohsin, Mudassar and Miandad cheaply. In reply, the Kiwis lost wickets regularly, with only Martin Crowe (43 off 62) and Jeremy Coney (51 off 78) producing batting of any real substance as the chasing side collapsed to 250 all out.
The India versus Australia encounter at Chelmsford was equally crucial for the semifinal prospects of both teams. Batting first, India turned in a weird performance -- barring number one Sunny Gavaskar (9 off 10) and number 11 Balwinder Sandhu (8 off 18), every other batsman made double figures, and five of them in fact went past 20. Yet, with the batsmen throwing their wickets away in self-destructive fashion, only Yashpal Sharma (40/40) managed to outscore Extras (37, thanks to an undisciplined effort by the Australians that produced 15 no-balls and 9 wides).
Australia's reply is one a proud sporting nation would have been glad to forget. The fall of wickets in fact tells the tale: 1/3, 2/46, 3/48, 4/52, 5/52, 6/69 -- the chasing side was never, ever in the hunt against steady, disciplined seam bowling led by Madan Lal (4/20), Roger Binny (4/29) and Balwinder Sandhu (2/26), and in the end lost by the huge margin of 118 runs to put India into the semis.