Statistics
The Test and County Cricket Board -- which ran the World Cup in its early avatars -- decided to change the format in 1983.

A round-robin, double leg tournament was introduced wherein each team in a group would play all others twice, in order to do away with freak results and one-off upsets. At least, that was the stated reason, though it is conceivable that the more matches equals more money at the gates argument could have had something to do with it.

As per the rules, the two top teams in each group would then go through to the semifinals.

Prudential, having announced that this was the last time it would sponsor the tournament, threw £500,000 into the kitty -- five times the amount it had put on the table for the 1975 inaugural version.
First Leg: First Round
The tournament opened on June 9, 1983 and, first crack out of the box, produced two upsets, alongside two predictable results. In the latter category came England's fluent 116-run win over New Zealand, with the home side piling up 322/6 on the back of a fluent century by Allan Lamb (102 off 105 balls) backed by contributions right down the line. Richard Hadlee was outstanding with the ball, giving a mere 24 runs in his 12 overs, but he had little support from his mates. The Kiwi reply was powered by a classy 97 off 118 deliveries by Martin Crowe, but with wickets tumbling regularly at the other end with Bob Willis, Ian Botham and Vic Marks as chief assassins, the Kiwis managed just 216 in response.
Pakistan brushed Sri Lanka aside with ease, putting up 338 for five. The innings was classic one day cricket -- Mohsin Khan anchored with a 121 ball 82, Zaheer Abbas produced a strokefilled 82 off 81 balls and Javed Miandad (72 off 52) and Imran Khan (56 not out off 33 balls) powered the latter half of the innings with blistering strokeplay. Sri Lanka fought hard to make 288 for nine, but only Brendon Kuruppu and Guy De Alwis managed sizeable knocks, giving Pakistan a 5-wicket victory.
Zimbabwe, making its Cup debut, shocked an Australian side that was still trying to find its feet after the upheaval of the Packer era. Batting first, Zimbabwe made 239/6 in the alloted overs after being in big trouble at one point 94/5. Barring Kepler Wessels and Rodney Marsh, none of the other Australian batsmen came to the party, the team managing just 226/7 in the 60 overs. Duncan Fletcher, now the England coach, provided the star turn with an innings of 69 not out, followed by 4/42 in his 11 overs.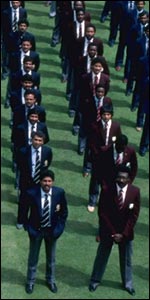 The India versus West Indies game got off to a delayed start, thanks to rain. Invited to bat first, India managed its first really decent total of the competition, Yashpal Sharma (89 off 120) leading the way with the likes of Roger Binny and Madan Lal contributing useful runs in the lower order after the top batsmen had failed to do much of substance. The West Indies reply was a precursor to the drama of the final -- Balwinder Sandu's banana swing deceived Gordon Greenidge, and some superb ground fielding accounted for Desmond Haynes to reduce the chasing side to 56/2 when stumps were drawn for the day.
On resumption the next morning, skipper Kapil Dev went flat out on the attack -- and wicket-keeper Syed Kirmani produced the goods when he snaffled a magnificent catch to send back Vivian Richards off Binny for just 17. Faoud Bacchus, Clive Lloyd, Jeff Dujon, Larry Gomes and Malcolm Marshall went cheap, and only a fighting last wicket stand of 71 between Andy Roberts and Joel Garner saved the two-time champions the blushes. It was not enough, though, to prevent India from sealing a 34-run win -- the first defeat for the West Indies in all World Cup matches till date. India's performance was completely unexpected from a side that had merely made up the numbers in the first two Cups -- but connoisseurs nodded wisely and pointed to the fact that in March that year, India had produced its first ever one-day win over the West Indies, at the St Albion Grounds in Berbice, Guyana.
That win was a turning point for a side that till then had been cricket's no-hopers, for it gave the Indians the realization that they, too, could compete in this form of the game.
Second Round
For India, the World Cup turned almost into a Test match, as it found itself playing on three consecutive days. After the long-drawn match against the Windies on 9th and 10th, it turned up on June 11 to play -- and defeat -- Zimbabwe with ease, Madan Lal and Roger Binny starring with the ball as the Indians bundled Zimbabwe out for 155, before Mohinder Amarnath and Sandeep Patil led a batting effort that saw India overhaul the target in the 38th over with five wickets in hand.
The second successive win underscored some of the latent strengths in the side -- allrounders Madan Lal, Roger Binny and Ravi Shastri were time and again producing tight spells and taking wickets in the middle, while Amarnath's controlled bowling was the icing on a batsmanship that saw Windies skipper Clive Lloyd rate him, just a day earlier, as the best player of fast bowling in the world.
The other three matches in the round were one-sided: England (333/9, David Gower 130/120) defeated Sri Lanka (286 all out; Duleep Mendis 56/64, Guy De Alwis 58/51) by 47 runs; New Zealand (238/9; Bruce Edgar 44/107, Martin Crowe batting at number 7 34/53, Abdul Qadir 4/21 in 12 overs) defeated Pakistan 186 all out after Richard Hadlee and Lance Cairns produced a sensational start, sending back Mohsin, Mudassar Nazar and Zaheer to have the batting side on 0/3 at one stage (Qadir 41/68; Hadlee 3/20, Cairns 2/21, Jeremy Coney 3/28) to seal a 52-run win; and the West Indies (252/9; Bacchus 78/153, Geoff Lawson 3/29) waltzed to a 101-run win over Australia (David Hookes 45/45, Winston Davis 7/51).
Third Round
Sri Lanka's run as the whipping boys of the 1983 Cup continued, this time with a 5-wicket defeat at the hands of New Zealand. Asked to bat first, Sri Lanka managed only 206 all out, despite skipper Duleep Mendis (43/70) and Ranjan Madugalle (60 off 87) combining well in the middle. Richard Hadlee with 5/25 proved destroyer-in-chief, and the Kiwis, who elevated John Wright back to the opening slot after having Bruce Edgar open in the first two games, coasted to the target in the 40th over (Glenn Turner 50/60, Wright 45/52, skipper Geoff Howarth 76/79).
The England-Pakistan encounter was a no-contest. Batting first on winning the toss, Pakistan had no answer to the accurate line and length work of the England bowlers, and collapsed to 193/8 -- a score made possible only by Zaheer Abbas's unbeaten 83/104. Opener Graeme Fowler (78/151 not out), David Gower (48/72) and Allan Lamb (48 not out off 62) waltzed the home side to an eight-wicket win with 9.2 overs to spare.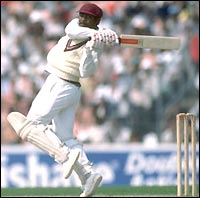 West Indies beat Zimbabwe by an identical eight-wicket margin. Asked to bat first, the minnows of the Cup were 65/4 before wicketkeeper Dave Houghton (54/92) and skipper Duncan Fletcher (71/88) hauled them to a more respectable 217/7. Though Desmond Haynes and Viv Richards were out cheap (23/2), Gordon Greenidge (105 not out off 147) and Gomes (75 not out off 128) ensured against another upset, coasting to a win in the 49th over.
India, with two wins in two tries, took on Australia with two defeats in two outings. Sunny Gavaskar, whose contributions had been 19 off 44 and 4 off 11 in the first two games, was rested (this, obviously, was an era wherein performance, not personality, still dictated team selection to an extent).
Australia won the toss and decided to bat. India decided not to field. Putting up perhaps the most pathetic fielding display ever by an Indian side in World Cup matches, the Indians allowed Australia to plunder 320/9 in the allotted 60 overs. The injured Greg Chappell was sitting out this game, but Trevor, the youngest of the Chappells, came in as opener and hit 110 off 131 balls, with the benefit of two lives. In fact, it is hard to think of an Australian batsman who did not get a life and/or gift runs. India managed, in reply, a mere 158 all out in 37.5 overs, coming to grief against Ken MacLeay (6 for 39). MacLeay was in fact responsible for triggering the slide, as India slumped -- in a fashion the team has patented, and still monopolizes, from 38/1 to 57/4 and 66/6. The only Indian player who came out of the game with self-respect intact was skipper Kapil Dev, who followed up his 5/43 with the ball with a typical 40 off just 27 in a losing cause with the bat. The margin of defeat was 162 runs.